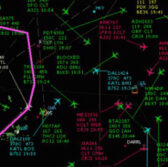 Modern Technology Solutions has collaborated with PrecisionHawk and Texas A&M University at Corpus Christi to test PrecisionHawk's Low Altitude Traffic and Airspace Safety platform on air traffic management with four unmanned aircraft and two manned aircraft.
MTSI said Monday the demonstration was funded by the Department of Homeland Security Science and Technology Directorate's Borders and Maritime Security Division and took place at a Port Mansfield, Texas-based small unmanned aircraft system test site for two weeks.
The tests aimed to assess how users can process UAS position reports and crowd-based aircraft data sourcing technologies in a cloud computing enironment
"Essential to these tests was the employment of cloud processed cellular 4G-LTE position reports integrated in to a single airspace picture with crowd based ADS-B and airspace and traffic data," said Paul Evans, an MTSI senior engineer.
Tyler Collins, PrecisionHawk's vice president for LATAS, said the tests aims to demonstrate a system that could assist shared airspace operations of manned and unmanned aircraft.
Aircraft position reports from technologies such as Global Positioning System, Automatic Dependent Surveillance – Broadcast and Identification Friend or Foe Mode C were transmitted in real-time through the LATAS web application, MTSI said.
The company further noted the LATAS platform works to alert sUAS pilots of approaching air traffic and geo-fenced restricted air space.