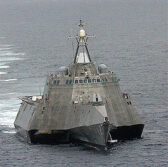 Lockheed Martin has been awarded a $74.6 million contract modification by the U.S. Navy to help the service branch conduct special studies, reviews and analyses of the Freedom-class Littoral Combat Ship development initiative.
The Defense Department said Thursday that Lockheed will evaluate production and engineering challenges and cost and schedule risks associated with the Freedom-class LCS program.
The company will also provide LCS engineering and design services as part of the contract.
The Naval Sea Systems Command has obligated $25 million from the Navy's ship conversion funds at the time of award.
Work will occur through May 2017 at various locations in Virginia, New Jersey, Washington and Wisconsin.
According to Lockheed, Freedom-class warships are designed to operate in near-shore or littoral environments and support sea control, deterrence and power projection missions of the Navy.