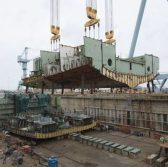 Huntington Ingalls Industries has added a new structure designed to update the construction workflow on a nuclear-powered aircraft carrier at its Newport News Shipbuilding dry dock facility.
HII's 965-ton "superlift" will work to support the continued development of the U.S. Navy's future John F. Kennedy carrier, which the company said Tuesday is currently 17 percent complete ahead of its scheduled launch in 2020.
The superlift features two pump rooms and various pre-installed tools including grating, valves, electrical panels, lighting, equipment mounting studs and other outfitting components to be used for the Kennedy construction.
Mike Shawcross, Newport News vice president for the CVN 79 construction, said the company works to integrate lessons learned during the construction of the Gerald R. Ford carrier on to the current project.
He added that the company installed most of the outfitting components before it took the section to the dry dock to address issues on man-hours spent.
According to a GovCon Wire report published in March 2014, the company started preparations to construct the Kennedy carrier in 2009.