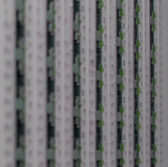 The FBI has started to search for information on potential information technology and audio-visual design and construction services for the bureau's future headquarters site, a process currently in the source and site selection phase.
The request for information posted Monday asks for feedback from contractors with "in-house capability" to design, construct and maintain IT and AV networks and systems with a focus on areas such as network architecture, cable TV, data centers, security, wireless and Voice over Internet Protocol telephone.
A selected contractor would start work on Jan. 1, 2017 under a firm-fixed-price contract with seven option periods, the RFI says.
The future headquarters site would encompass approximately 2.1 million square feet with nearly 11,000 people housed inside.