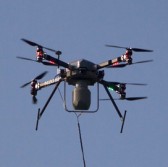 Drone Aviation has concluded a nighttime flight test of its commercial tethered unmanned aircraft system under approval by the Federal Aviation Administration.
The company collaborated with The Mid-Atlantic Aviation Partnership at Virginia Tech and Aviation Systems Engineering Company for the WATT-300 flight test, Drone Aviation said Wednesday.
Jay Nussbaum, chairman of Drone Aviation, said the WATT-300 tethered drone is built to provide persistent daytime or nighttime monitoring with the use of its optical camera systems.
He added that the partnership with ASEC and VTMAAP aims to demonstrate the potential to integrate WATT-300 with third-party programs.
During the test, the drone used a gimbaled, dual electro-optical/infrared camera to perform nighttime research activities and flew at an altitude of 150 feet.
Drone Aviation said VTMAAP personnel supervised the ASEC pilot who operated the tethered drone.