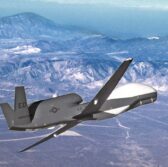 Battelle has sold nearly 100 units of a portable drone defense system to the departments of Defense and Homeland Security.
The nonprofit science organization's DroneDefender technology works to disrupt the operations of unmanned aircraft systems at a range of up to 1,300 feet through the use of radio control frequency, Battelle said Wednesday.
"The idea is to quickly halt the drone and to stop it from being a threat," said Dan Stamm, a researcher who helped develop the drone defense tool.
Stamm teamed up with scientist Alex Morrow to build the system.
DroneDefender is a man-portable, point-and-shoot system that follows three pre-programmed protocols during encounters with unauthorized UAS, Battelle said.
The nonprofit company produces the technology at its manufacturing facility in Ohio.