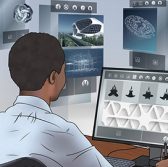 The Defense Advanced Research Projects Agency has unveiled its Transformative Design research program to develop new mathematics and algorithms that will work to help apply new materials and fabrication methods.
DARPA said Friday the TRADES project's goal is to develop new tools that addresses potential mismatches between technologies, representations and algorithms do with nexisting material properties.
"Structural and functional complexities introduced by today's advanced materials and manufacturing methods have exceeded our capacity to simultaneously optimize all the variables involved," said Jan Vandenbrande, a DARPA program manager.
"We have reached the fundamental limits of what our computer-aided design tools and processes can handle, and need revolutionary new tools that can take requirements from a human designer and propose radically new concepts, shapes and structures that would likely never be conceived by even our best design programs today, much less by a human alone."
TRADES also seeks to create unified designs and tools that meet the unique requirements of advanced materials such as carbon fiber composites in efforts to prevent fabrication difficulties and defects..
DARPA has scheduled a proposers day for May 13 in Arlington, Virginia to receive and discuss concepts from the animation, materials science, applied math, data analytics and artificial intelligence communities.