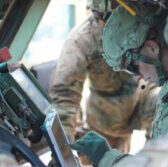 Lexington Park, Maryland-based engineering consultancy firm Coherent Technical Services Inc. has secured a $20.5 million contract modification from the U.S. Navy to provide navigation technology engineering support for air and shipboard C4ISR.
The Space and Naval Warfare Systems Center awarded the contract modification and obligated the full amount from fiscal 2016 research, development, test and evaluation funds, the Defense Department said Monday.
The modification exercises an option on a previously awarded contract, DoD added.
The company received the contract as part of a competitive procurement via the Federal Business Opportunities website and will perform work in California and Maryland through April 17, 2018.
CTSi offers systems engineering, technical management, Web development, training courses and fabrication services to government and defense clients including the Navy and the Federal Aviation Administration.