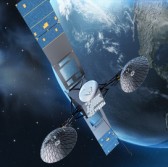 Boeing has received consent from NASA to store a tracking and data relay satellite at the company"™s facility in El Segundo, Calif. following the completion of work to build the satellite in 2015.
TDRS-M is the sixth satellite Boeing built for NASA"™s TDRS constellation that is designed to help the space agency meet high-bandwidth communications requirements of low-Earth orbit spacecraft, Boeing said Tuesday.
The TDRS constellation supports NASA missions such as the International Space Station, Earth Observing System and Hubble Space Telescope; as well as launch vehicles and human space flight missions.
NASA plans to launch the sixth satellite onboard a United Launch Alliance-made Atlas V rocket in 2017.
TDRS-M is part of the second block of three TDRS satellites.
NASA launched the second block"™s first two Boeing-built satellites "" TDRS-K and TDRS-L "" in 2013 and 2014.