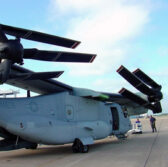 A joint venture of Boeing and Bell Helicopter has landed a $55 million contract modification from the U.S. Navy for repair services on various parts of its multirole combat aircraft.
The Defense Department said Tuesday the Bell Boeing Joint Program Office will provide its repair services on V-22 aircraft at facilities in Texas and Pennsylvania through December 2017.
Naval Supply Systems Command's weapon systems support unit will obligate fiscal 2016 working capital funds at time of award.
V-22 Osprey is a multirole combat aircraft that works to meet Navy combat search and rescue, fleet logistics support and special warfare support requirements and is deployed by the U.S. Marine Corps and U.S. Air Force.