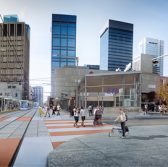 San Francisco, Calif.-based construction company Bechtel and its partners have commenced the development of the Edmonton Valley Line Light Rail Transit "" Stage 1 project that looks to address a projected population increase in the Canadian city.
The company will work with Bombardier, EllisDon and Fengate Capital Management as part of a consortium called TransEd Partners to build and eventually operate and maintain the transit line's Stage 1, Bechtel said Friday.
Stage 1, which will connect Mill Woods to downtown Edmonton, includes 11 stops, an elevated station and a transfer point to the existing Capital Line and Metro Line LRT, the company added.
Larry Melton, Bechtel design-build project director for TransEd Partners, said the team will work toward a sustainable, efficient and safe transportation system in efforts to facilitate economic growth in Edmonton, Canada.
Bechtel added that the project is part of a public-private partnership procurement project and is the first under the company's new P3 business line.