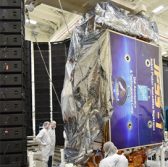 Ball Aerospace and Technologies Corp. has started to test a National Oceanic and Atmospheric Administration weather prediction and environmental monitoring satellite in a simulated setting.
The Joint Polar Satellite System satellite will undergo a series of acoustic, vibration, and electromagnetic interference and electromagnetic compatibility tests at a facility Boulder, Colorado where the company built the spacecraft, Ball Aerospace said Friday.
"We look forward to having the next polar-orbiting satellite on-orbit to ensure continuous coverage of precise and timely weather information," said Jim Oschmann, vice president and general manager for Ball Aerospace's civil space business unit.
JPSS-1 contains a Northrop Grumman-built technology microwave sounder, Harris-provided cross-track infrared sounder and Raytheon-designed visible infrared imaging radiometer.
NASA's Langley Research Center made the Clouds and the Earth's Radiant Energy Systeminstrument and Ball Aerospace constructed the Ozone Mapping and Profiler Suite-Nadir.
Ball Aerospace designed the JPSS-1 spacecraft and the Ozone Mapping and Profiler Suite-Nadir instrument under a contract with NASA.
The spacecraft is scheduled for thermal vacuum tests between July and the fall to assess the satellite"™s endurance in extreme temperatures.