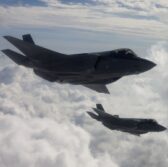 Balfour Beatty has landed an estimated $117 million subcontract from BAE Systems for construction services at a U.K. air force base that will house Lockheed Martin-built fighter jets beginning 2018.
Balfour Beatty will construct an integrated training center, logistics operations center and a maintenance and finishing facility at the Marham air base to support the arrival of the U.K.'s first F-35 Lightning II fighter jets, the company said Thursday.
Construction will commence this month and continue through the summer of 2018 when the first fleet of F-35 Lightning II fighter jets arrive, the company added.
It said it will use 4-D and building information modeling techniques to support its work on the facilities, which total an area of approximately 269,000 square feet.
BAE Systems was earlier selected by Lockheed for the F-35 aircraft engineering and training facilities construction services at the Marham base under a a $166.3 million subcontract.