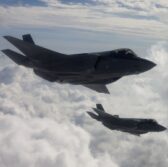 Airframe structure builder Avcorp Industries has received a new firm order from Lockheed Martin to produce outboard wings for lots nine and 10 of the F-35 program.
The F-35 Carrier Variant Outboard Wing order builds on a previous contract awarded by Lockheed in October 2015, Avcorp said Friday.
Avcorp CEO Peter George said the company is in talks with Lockheed to expand his company's role in the F-35 program upon Avcorp's acquisition of a company that now functions as its composite fabrication subsidiary.
Vancouver, Canada-based Avcorp is working to deliver its CV OBW products to Lockheed's Fort Worth, Texas facility in the third quarter of 2016 and the new order extends the schedule to 2018.