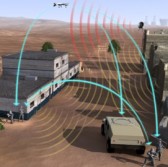 The U.S. Air Force looks for industry partners to take part in a potential $12 million program that seeks to develop power sources and antennas for aerospace and defense uses, Military & Aerospace reported Wednesday.
John Keller writes that the Air Force Research Laboratory released a solicitation Tuesday seeking partners to aid the development of the High-Powered Electromagnetics program sponsored by AFRL's directed energy directorate.
The program works to develop electromagnetics technologies for directed-energy weapons, cyber warfare, electronic warfare, power electronics and antennas.
Interested parties will focus work on analytics, simulation, developmental design drawing, component fabrication, system assembly and operational checkout, vacuum electronics and HPEM loads, interfaces and antennas, the report said.
Keller writes that contractors selected for the power source and antenna program will work to develop tunable HPEM oscillators, broadband HPEM amplifiers and radiating structures, among others.
HPEM currently consists of six technical aspects, which include NextGen HPEM, HPEM transition, HPEM cyber/electronic warfare applications, HPEM effects, electromagnetics weapons technology and numerical simulation, the report added.
The current solicitation focuses on the NextGen HPEM portion of the program.