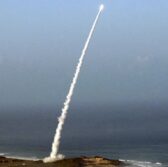 The State Department has approved Indonesia"™s request to acquire a suite of air-to-air missiles, equipment, training and logistics support from the U.S. government under a $95 million foreign military sales agreement.
The Defense Security Cooperation Agency said Thursday Indonesia asked to purchase 36 AIM-120C-7 AMRAAM missiles, one missile guidance section, spare parts and loading adapters.
DSCA will hold a competition to determine the FMS deal's contractor that will also be responsible for engineering and technical support, technical publications, test equipment and other related components for Indonesia.
Indonesia intends for the missiles to deter threats in the region and bolster the nation"™s homeland defense posture, while the U.S. cited Indonesia's role in the Asia-Pacific region's political and economic environment in its justification for the sale.