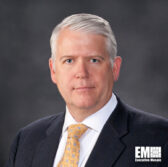 Rick Ambrose, executive vice president of Lockheed Martin's space systems segment, has said the company has adopted 3D printing technology and works to accelerate satellite development time by 40 percent in an effort to reduce costs, Reuters reported Tuesday.
Ambrose told Reuters reporter Andrea Shalal in an interview that he expects Lockheed to develop a capability that would allow it to program in-orbit satellites for new missions over the next five years.
"Ultimately [the government] is going to go to a new architecture, so by reducing the cost, it helps the government and it also helps us get to the future," he said during the interview at the annual Satellite 2016 conference.
He told Reuters that Lockheed is scheduled to conclude tests on a 3D-printed propellant tank by the second quarter of 2016 and has generated approximately $2.8 billion in savings from its Advanced Extremely High Frequency communications satellite program and Space-Based Infrared System built for missile warning operations.