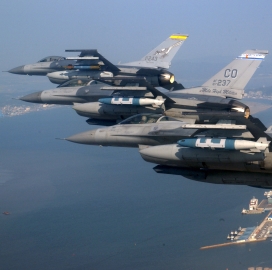 Lockheed Martin is in talks with the U.S. and Indian governments to transfer at least some production of F-16 aircraft to India in a bid to address the latter country"™s recapitalization requirements for fighter jets, The Hindu newspaper reported Monday.
Phil Shaw, head of Lockheed"™s Indian unit, confirmed the company"™s discussions with both governments and India-based industry partners through a statement to the newspaper.
Narayan Lakshman writes that India might decide on Lockheed"™s offer by April and that decision might coincide with Defense Secretary Ashton Carter"™s visit to the country.
The Hindu reports that if India accepts the offer, the country could receive up to 90 F-16 jets and start to emerge as a maintenance, repair and overhaul center for Fighting Falcon aircraft currently in service worldwide and as a manufacturing source for other countries that seek to update their fleets of fighters.
India could also consider the possibility of technology transfer with Lockheed as another potential outcome of accepting the offer, the report added.