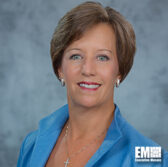 Rebecca Cowen-Hirsch, senior vice president of government strategy and policy at  Inmarsat's U.S. government segment, has said she believes partnerships could help usher in a new model for the Defense Department to procure satellite communications technology from industry.
She wrote in a blog article published Friday that some government and industry executives provided their insights on satcom-as-a-service model during a panel discussion she moderated at the Satellite 2016 event held in National Harbor, Maryland.
Cowen-Hirsch said Doug Loverro, deputy assistant defense secretary for space policy, called on DoD to explore approaches to modernize and secure military communication satellites with commercial technology.
Rick Lober, vice president and general manager of Hughes Network Systems' defense and intelligence systems division, told the panel that satcom-as-a-service platform can help customers save money and manage interoperability between multiple satellite systems.
Mark Spiwak, president of Boeing's satellite systems international business, noted during the forum he believes government and industry should collaborate to develop mission-specific satcom standards and adopt rapid innovation methods.