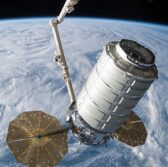 The Orbital ATK Cygnus spacecraft launched by NASA Tuesday has arrived at the International Space Station to deliver 7,900 pounds of cargo that includes crew supplies and scientific experiments.
S.S. Rick Husband Cygnus' arrival marks the company's fourth berthing with ISS under the space agency's Commercial Resupply Services contract, Orbital ATK said Saturday.
"As we accomplish our fifth Cygnus berthing to the ISS, we celebrate the completion of a primary mission objective for OA-6," said Frank Culbertson, president of Orbital ATKÂ space systems group and an inductee into Executive Mosaic's Wash100 for 2016.
"Following its stay at the ISS, and for the first time, we will undertake three experiments onboard the unmanned spacecraft."
The company said Cygnus — which launched late Tuesday from Cape Canaveral Air Force station — was maneuvered close to ISS before its retrieval by the space observatory's robotic arm and docking at the Unity module.
The spacecraft will stay at ISS for two months before proceeding with three payload mission objectives, which are to place five CubeSats into orbit, light a large-scale fire onboard using the Spacecraft Fire Experiment-I and perform the Reentry Breakup Recorder experiment.
It will also carry 4,400 pounds of disposable cargo to Earth, Orbital ATK added.