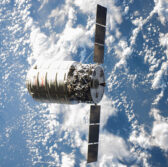 Orbital ATK and NASA are set to launch a company-built Cygnus spacecraft on Tuesday to transport approximately 7,900 pounds of science experiments and crew supplies to the International Space Station.
The cargo spaceship, nicknamed S.S. Rick Husband, is scheduled to take off Tuesday at 11 p.m. Eastern Time aboard an Atlas V rocket from Cape Canaveral in Florida, NASA said Friday.
It will mark the second unmanned flight of Orbital ATK's upgraded Cygnus spacecraft and the company's fifth operational mission to the orbiting laboratory under its Commercial Resupply Services contract with the agency.
NASA indicated the scientific payload of Cygnus includes the Gecko Gripper adhesive technology, a three-dimensional printer, the Strata-1 asteroid research project, a meteor observation instrument, the Spacecraft Fire Experiment and more than two dozen Earth-observing nanosatellites.
"Once we fulfill our cargo resupply objectives, we will conduct science experiments onboard the spacecraft and deploy CubeSats during the mission, both of which are firsts for Cygnus," Frank Culbertson, president of Orbital ATK's space systems group, said Monday.
The company indicated ISS crew will integrate a Reentry Breakup Recorder instrument into the spacecraft in an effort to record the vehicle's breakup dynamics as it re-enters Earth's atmosphere.