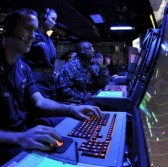 LRAD Corp. has received a five-year, $7.4 million contract from the U.S. Navy to deliver an acoustic hailing device system that works to facilitate situational awareness for naval forces.
The Navy will use the device to support situational monitoring and anti-terrorism activities aboard Military Sealift Command vessels and other Navy and Coast Guard ships, the Defense Department said Wednesday.
The remote-controlled device works to broadcast voice files and alert tones as well as direct the sound beam on an object with the help of a low-light day camera.
LRAD will manufacture the system in San Diego, California, through March 2021 under the indefinite-delivery/indefinite-quantity contract.
The company designs, develops and tests mass notification systems and long-range acoustic hailing devices.