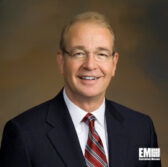 Rob Weiss, executive vice president and general manager of Lockheed Martin's Skunk Works business, believes that the Defense Department should explore strategies to accelerate the pace of upgrades to the U.S. military's F-22 and F-35 fleets, Flightglobal reported Friday.
James Drew writes Weiss made the remarks as the U.S. Air Force and the U.S. Navy eye a next-generation air dominance program.
"As we look at F-22s and F-35s, those airplanes have the capacity to maintain an advantage over the threat for the next 30, 35 to 40 years but it requires a modernisation roadmap… to maintain their advantage relative to the threat," Weiss said at a media briefing last week.
The report said Lockheed recommended that DoD adopt a three-pronged approach to speed up the acquisition process for F-35s, modernize F-22 and F-35s and ensure a proposed sixth-generation fighter capability is mature before the department comits to a new aircraft program.