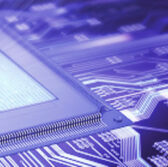 IBM has agreed to provide Lawrence Livermore National Laboratory access to a company-made brain-inspired chip architecture as part of a collaborative project to build supercomputer systems.
The company said Tuesday LLNL will receive a 16-chip TrueNorth neurosynaptic system that is designed to process data equivalent to 16 million neurons and four billion synapses.
IBM's research business developed TrueNorth with Cornell University through the Defense Advanced Research Projects Agency's Systems of Neuromorphic Adaptive Plastic Scalable Electronics initiative.
Under the agreement, LLNL will also have access to IBM's cognitive computing ecosystem that comprises an integrated programming environment, a simulator, a catalog of algorithms and applications, a programming language, firmware, deep learning tools, a cloud enablement strategy and a teaching curriculum.
"Neuromorphic computing opens very exciting new possibilities and is consistent with what we see as the future of the high performance computing and simulation at the heart of our national security missions," said Jim Brase, deputy associate director of data science at LLNL.
The lab also plans to use the neuromorphic technology to explore computing methods that can help facilitate cybersecurity missions at the National Nuclear Security Administration.
IBM indicated the system works to infer pattern recognition, sensory processing and other complex cognitive functions.