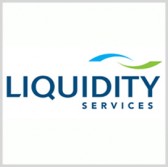 Liquidity Services has placed the winning bid in a U.S. Defense Logistics Agency auction event held Wednesday in search of a contractor to manage, purchase and sell scrap assets for the Defense Department.
The DLA scrap contract contains a base period of three-years and two one-year options to extend work, Liquidity Services said Thursday.
Scrap assets include property that has no monetary value aside from basic metallic, mineral or organic content.
The winning bid equals 64.5 percent of Liquidity Services' gross resale proceeds to be returned to the government.
Liquidity Services completed a previous DLA scrap assets contract in June after the agency exercised multiple extension options.