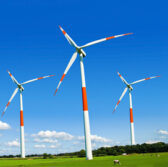 Iron Mountain has agreed to procure energy from a new wind farm in Ringer Hill, Pennsylvania, to help address current electricity requirements of the information technology firm's facilities in the mid-Atlantic region.
Iron Mountain said Tuesday it aims to save up to $500,000 annually through a 15-year wind power purchase agreement the company signed with New Jersey Resources for two-thirds of the power that NJR's Ringer Hill wind turbines will generate.
The wind farm is scheduled to begin operations by the end of 2016.
"The wind power agreement, along with our recent Better Buildings Initiative pledge to reduce energy intensity of 8.75 megawatts, demonstrates a serious commitment to environmental responsibility," noted Mark Kidd, senior vice president and general manager of Iron Mountain's data centers business.
The company expects the deal to help fulfill its annual requirement for more than 80,000 megawatt-hours of electricity to run mid-Atlantic business operations.
Iron Mountain said its emergent data center business accounts for up to 20 percent of the company's overall North American power footprint.