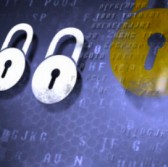 A survey from Intel"™s security business says 42 percent of security professionals have adopted shared cyber threat intelligence in an effort to protect their companies"™ networks from potential cyber attacks.
Intel Security polled 500 security professionals across different industries in North America, Europe and Asia Pacific in 2015 about their knowledge of CTI and its advantages to their firms, the company said Tuesday.
The McAfee Labs Report found that nearly 91 percent of respondents have expressed interest in industry-specific CTI, while more than 60 percent of cybersecurity professionals said they are willing to share threat data through a secure platform.
The survey cited corporate policies, industry regulations, lack of knowledge on CTI integration and risks linked to attribution as some of the challenges respondents cited as a barrier to shared CTI implementation.
Some of the identified threats included ransomware and mobile malware, which respectively surged 26 percent and 72 percent each quarter during the fourth quarter of 2015.
Intel also identified 7,295 samples of Adwind remote administration tool in the fourth quarter of 2015, up from 1,388 in the first quarter of 2015.
Adwind is a Trojan-based program that zeroes in on platforms that support Java files and can be disseminated through spam campaigns.