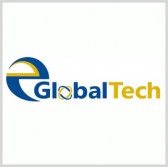 eGlobalTech has been awarded a contract to support a Department of Homeland Security office responsible for the management of communication technologies used by emergency response personnel and other government officials.
The management consulting and information technology company said Tuesday DHS' emergency communications office helps coordinate, train and guide government agencies and industry partners.
Allan Potter, eGlobalTech senior director for homeland security, said the company will work with DHS to develop technologies, policies and regulations for the management of public safety communications systems.