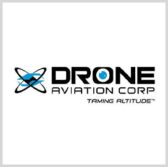 Drone Aviation has landed a $780,000 contract to provide the second generation of its tactical aerostat systems to the Defense Department.
The company said Monday DoD is its first customer for the upgraded Winch Aerostat Small Platform aerostat system.
WASP works to capture day/night video and provide an extended wireless communication range.
Drone Aviation said the second-generation WASP features a bigger helium supply storage, a modular Aerial Payload Interface Unit and a ruggedized mooring system.
"With this generation of the WASP, we are moving this company from its development phase into a commercialization stage focused on aerial products designed for the military and civilian commercial markets," said Drone Aviation Chairman Jay Nussbaum.
WASP systems have previously been tested by the DoD for border protection missions and utilized by the U.S Army in network integration experiments, the company added.