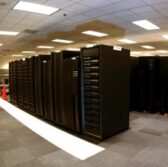 CyrusOne has completed the steel framework for the company's future data center campus in Sterling, Virginia.
The new building will cover an area of 230,000 square feet upon its scheduled completion in the third quarter of 2016 and operate with up to 30 megawatts of power, CyrusOne said Tuesday.
Tesh Durvasula, chief commercial officer at CyrusOne, said the location in northern Virginia provides access to a large U.S. Internet Exchange point and fiber connectivity that works to support high-performance computing.
The facility will feature CyrusOne's Massively Modular engineering systems designed to help perform large-scale deployment and buildout, the company added.
CyrusOne held a "topping out" ceremony to mark the completion of the future data center's steel framework.