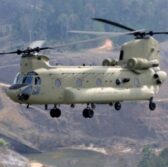 Boeing has awarded Rockwell Collins a contract to provide a Common Avionics Architecture System for 15 CH-47F Chinook helicopters flown by India's military.
The Rockwell Collins India Design Center will lead the implementation of tests and software changes as ordered by India's army to meet requirements, Rockwell Collins said Monday.
Troy Brunk, vice president and general manager of airborne solutions for Rockwell Collins, said the company aims to help helicopter pilots in India achieve situational awareness and operate under certain flight safety standards.
Rockwell Collins will start work within the year and continue through 2018.
A similar contract was signed in May 2015 for aviation electronics equipment and engineering services to Canada's air force.