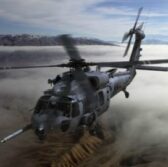 BAE Systems has been selected to provide missile warning and friend-or-foe identification systems in support of the U.S Air Force Combat Rescue Helicopter contract that was awarded to Lockheed Martin-owned Sikorsky Aircraft.
BAE said Wednesday it will produce its AN/DPX-7 Reduced Size Transponder and Common Missile Warning System for the HH-60W Sikorsky helicopters.
The company noted its RST friend-or-foe ID system is currently installed on various manned and unmanned aerial vehicles such as the MQ-4C Triton UAV that is being produced by Northrop Grumman for the U.S Navy.
CMWS works to detect and dodge small arms fire and rocket-propelled grenades and to provide post-mission analysis, BAE added.
The combat rescue helicopter contract was awarded to Sikorsky in 2014 to replace the Air Force's HH-60G Pave Hawk helicopters with the HH-60W, which is a variant of Sikorsky's Black Hawk.