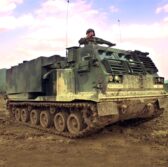 The U.S. Army has awarded Aerojet Rocketdyne an $18.8 million contract and Orbital ATK a $17.8 million contract to help validate insensitive-munition rocket motors for the Guided Multiple-Launch Rocket System.
The Defense Department said Friday the two companies will support integration and qualification testing of MLRS propulsion systems and components through Dec. 31, 2017.
Guided MLRS, built by Lockheed Martin, comprises three rockets and four missiles and is designed for military tactical and operational missions.
Orbital ATK will perform work at the Rocket Center in West Virginia and the full obligated amount for the company's contract is from the Army's fiscal 2016 research, development, testing and evaluation funds.
The military service has obligated $10.4 million for the contract with Aerojet Rocketdyne at the time of award and company work will occur in Gainesville, Virginia.