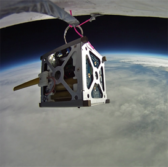 United Launch Alliance has selected Tyvak Nanosatellite Systems to serve as an auxiliary payload customer on ULA's CubeSat rideshare program under a memorandum of understanding between the two companies.
Tyvak will be able to provide commercial and U.S. government CubeSat customers, as well as science, technology, engineering and math CubeSat customers access to ULA's Atlas V launch vehicles through Dec. 31, 2019, ULA said Tuesday.
Tory Bruno, ULA president and CEO, said the Boeing–Lockheed Martin joint venture's rideshare initiative works to make slots on rocket launches more accessible to payload customers.
Tyvak will work to identify and integrate CubeSat customers on the Atlas V launch vehicle system.