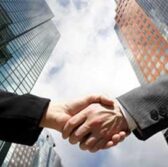 Lockheed Martin's Sikorsky business and Taqnia Aeronautics have formed a partnership to seek business opportunities in helicopter production in Saudi Arabia.
Both companies outlined in their agreement the investment, technology and skills requirements for the production and assembly of S-70 Black Hawk helicopters in the country, Lockheed said Tuesday.
"Entering into this agreement will give Taqnia Aeronautics the foundation to create a helicopter assembly operation in Saudi Arabia and assist in developing local content," said Maj. Gen. (ret.) Ali Al-Ghamdi, Taqnia Aeronautics CEO.
"We are proud to be facilitating the kind of knowledge-based collaboration that accelerates job growth, technology sharing and industrial partnership in the Kingdom," added Alan Chinoda, CEO of Lockheed Martin Saudi Arabia.
Ghamdi and Anand Stanley, Sikorsky vice president for Europe, Middle East and Africa, inked the agreement during the opening of the AFED local manufacturing exhibition in Riyadh.