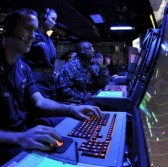 A new report by Research and Markets predicts the global market for command-and-control systems to experience a compound annual growth rate of 3.68 percent over the next four years.
Research and Markets said Monday the worldwide C2 market has nearly 14 percent share of the total market for C4ISR platforms and is projected to hit $16.5 billion by 2020 from $13.77 billion in 2015.
According to the report, the market for such systems will experience rapid growth in Eastern Europe, South Africa and Japan but will see moderate global growth due to budget cuts in some developed countries, particularly in the U.S.
The increase in the acquisition of Lockheed Martin-built F-35 Lighting II fighter jets is expected to drive the demand for C2 systems beyond the forecast period, the report noted.
The report also cited Harris Corp., Elbit Systems and a joint venture of Raytheon and Thales as some of the vendors in the aerial-based C4ISR market.