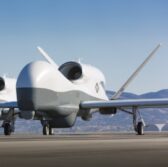 Northrop Grumman has wrapped up the operational assessment phase for the MQ-4C Triton unmanned aircraft system the company designed for the U.S. Navy.
Navy personnel and Northrop employees collaborated to check the performance of Triton during a 60-hour flight test and examined sensor imagery taken at different altitudes, Northrop said Tuesday.
"Operational assessment for Triton included several flights which exercised the weapon system through operationally relevant scenarios that demonstrated its readiness to meet the Navy's maritime intelligence, reconnaissance and surveillance needs," said Doug Shaffer, vice president of Triton programs at Northrop Grumman.
The operational assessment indicates the aircraft's readiness for a Milestone C decision before it transitions to the low-rate initial production phase.
Northrop added that the test team also analyzed Triton's ability to identify targets and transmit data.
MQ-4C Triton works to support maritime intelligence, surveillance and reconnaissance operations.