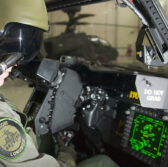 The Naval Air Systems Command plans to award BAE Systems' U.S. subsidiary a sole-source contract to build friend-or-foe identification systems for military aircraft such as the F/A-18 Hornet, Military & Aerospace Electronics reported Wednesday.
The contract with BAE Systems Inc. will cover AN/APX-111 Mode 5 combined interrogator transponders, shop replaceable assemblies, kits for conversion of current AN/APX-111s into Mode 5 configuration and integration and test asset repair services, the publication reports.
The U.S. Navy said in notice posted Tuesday on FedBizOpps that contract is meant to address the military branch's fiscal 2017 and 2018 requirements for the technology.
AN/APX-111 transponders are designed with an open architecture and a field-programmable gate array technology and work to help air traffic controllers identify friendly aircraft.
NAVAIR intends to buy the systems for integration into fighter-bombers, trainers, helicopters and transport planes.