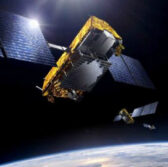 Iridium Communications has delayed the launch of its 66-satellite Iridium NEXT constellation from April to July after the launch provider notified of delays in obtaining government approvals for the launches, Iridium CEO Matt Desch told investors Thursday.
SpaceX will launch 10 Iridium NEXT satellites in December on its Falcon 9 rocket and joint Russian-Ukrainian spaceflight company Kosmotros will subsequently launch two satellites upon receipt of the approval, Desch said.
Russia's ministry of defense has received Kosmotros' application to carry out the launch but has not given feedback on the filing and has many others in the queue as well, Desch said.
The new plan will have SpaceX carry out its first and second launches three months apart as opposed to four, with the second launch scheduled to take place in October.
"Even with this change, the Iridium NEXT constellation remains on track for full deployment in 2017," Desch said in the call with investors.
"We're lucky to have in SpaceX a launch provider flexible enough to move our launch up by a month with this little notice," Desch said.
Iridium, which has invested $3 billion into the program, said in October it would delay the launch from December to April after Thales Alenia Space reported a component issue.
"Thales Alenia Space has made good progress on all the technical aspects of our satellites. The issues are resolved and both the hardware and software are being fully tested."