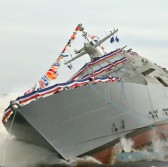 Lockheed Martin has transported an 11th Littoral Combat Ship the company built for the U.S. Navy to the Fincantieri Marinette Marine shipyard in Wisconsin.
USS Sioux City will be outfitted and tested at the shipyard prior to its scheduled delivery to the Navy in 2017, Lockheed said Saturday.
"The future USS Sioux City"™s interchangeable mission modules will empower her to face a variety of high-priority missions, from anti-surface warfare to anti-submarine warfare to mine countermeasures," said Joe North, Lockheed's vice president of littoral ships and systems.
Mary Winnefeld, the ship"™s sponsor, led the christening of Sioux City at the shipyard"™s Menominee River.
Lockheed currently builds seven ships at Fincantieri Marinette Marine, including Sioux City, and has delivered three LCS ships to the Navy.