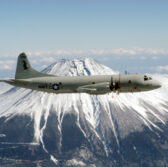 Lockheed Martin has approved Associated Aircraft Manufacturing and Sales Inc. as a support provider for P-3 Orion aircraft operators.
AAMSI announced Wednesday its addition to Appendix A-2 of Lockheed's P-3 Orion distributor agreement enables it to provide P-3 manufacturing and avionics repair to support military operators of the aircraft.
The company added that it has previously received tasks from Lockheed and Northrop Grumman to provide repair and manufacturing services on aircraft systems and components on various military platforms.
AAMSI is a small business that works to deliver manufacturing, logistics and repair support in the aerospace and defense sector.