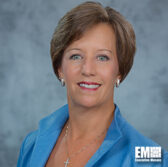 Rebecca Cowen-Hirsch, an Inmarsat senior vice president, wrote in a blog entry posted Tuesday the adoption of a "satcom-as-a-service" model could help military agencies obtain value from their communications satellite investments.
Cowen-Hirsch, SVP of government strategy and policy for Inmarsat's U.S. government segment, said she believes the emerging service platform will allow customers to manage satellite mission assurance, interoperability, coverage and performance.
"It is an era of uncertainty, as we cannot fully know the intent of our enemies," she noted.
"It is also an age of opportunity to push satcom innovation to extraordinary levels of performance, as industry leaders work with government agencies to augment milsatcom."
According to Cowen-Hirsch, the fiscal year 2016 National Defense Authorization Act calls for the Defense Department to test various methods for the procurement of commercial satcom services.
She added the Government Accountability Office recommended that DoD identify opportunities and challenges in the department's satellite acquisition programs through a spending analysis.