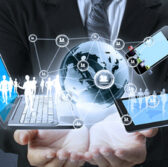 A new International Data Corp. report predicts consumer and enterprise spending on mobile software, devices and services to hit $1.85 trillion by 2019, up from $1.66 trillion in 2015.
IDC said Thursday the figure represents a compound annual growth rate of 2.7 percent over four years as commercial enterprises across industries seek to transform their operations.
According to IDC"™s Worldwide Semiannual Mobility Spending Guide, healthcare companies worldwide will spend at least $30 billion on mobile platforms by 2019 driven by government mandates and changes in compliance requirements within the sector.
IDC said it predicts global government agencies"™ spending on mobility platforms to hit approximately $30.6 billion by 2019 and that mobility spending by the retail sector to represent a CAGR of 5.6 percent over the four-year period.
"While mobile device ownership and general app uptake has already impacted consumers and businesses large and small, utilizing mobile capabilities to drive wholesale digital transformation in personal and professional spaces continues to represent a growth opportunity for vendors and channel partners," said Chris Chute, vice president of IDC"™s customer insights and analysis group.
IDC also projects that spending on mobile services in Asia-Pacific to reach $332 billion by 2019, followed by the U.S. with $249 billion.