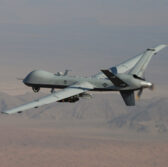 Spain's defense ministry has placed an order for four General Atomics-built Predator B/MQ-9 Reaper unmanned aerial vehicles through a $243 million foreign military sales agreement with the U.S.
The contract also covers MTS-B electro-optical/infrared sensors, two Block 30 ground control stations, line-of-sight datalink platforms and Block 20A Lynx multi-mode radar for the Spanish armed forces, General Atomics said Wednesday.
The order comes after Spain received approval from the State Department in October 2015 to buy four UAVs and related equipment in support of the country's aerial reconnaissance and surveillance operations for defense and national security missions.
Linden Blue, CEO of General Atomics Aeronautical Systems, said the company has selected Spain-based engineering firm Sener as its partner to provide integration and sustainment support for the drones.
MQ-9 Reaper works to detect and neutralize targets as well as support surveillance missions.
Reapers have a maximum payload capacity of 3,750 pounds and are designed to fly at a maximum altitude of 50,000 feet for up to 27 hours.