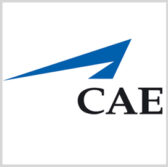 CAE has secured multiple contracts worth a combined $250 million to deliver full-flight simulators and training services to various civilian aviation customers globally.
The company said Monday it will support pilot and technician training programs of more than 10 business aircraft operators in the U.S., Asia, Europe and the Middle East.
A North American operator awarded CAE a four-year contract to help train its commercial pilots.
CAE received an order for one A320 FFS system from its joint venture with InterGlobe Enterprises and one MRJ 90 engineering FFS from Mitsubishi Aircraft Corp.
A Europe-based airline ordered a 400XR flight training device and an ATR-600 simulation technology, CAE noted.
Other international orders are for simulators that are designed to train pilots to operate Boeing-built 737NG and 737MAX aircraft as well as Airbus' A320 Neo and ATR's 42/72 planes.
CAE will also help run, maintain and modernize various commercial aviation training centers in Asia, Europe and North America.