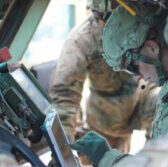 Airborne Systems has developed a navigation software designed to help military parachutists reach their landing targets, Fedscoop reported Wednesday.
Greg Otto writes the Airborne Systems-developed Pilot software is installed on Panasonic-built Toughpad ruggedized tablet attached to the parachute and works to measure distance, altitude and wind speed from the landing target.
"[The tablets] cannot be too big because [troops] are already carrying a lot of equipment "" oxygen bottles and masks, armor plates, rucksacks "" and they need to be able use the handles if there is a problem with their parachute," said Vincent Mignot, a parachute engineer at Airborne Systems.
Mignot told Fedscoop the company has already deployed its Pilot software to U.S. Army Special Forces"™ parachutists.