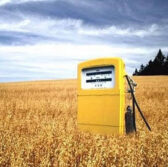 Syn-Tech Systems will provide support services for the FuelMaster fuel management systems under a potential six-year, $91.9 million indefinite-delivery/indefinite-quantity contract from the U.S. Navy.
The Defense Department said Tuesday Syn-Tech will provide technical, installation and sustainment services for automated FuelMaster fuel service stations, fuel dispensing systems and other equipment at 507 international sites.
The contract has a base period of one year and base value of $17.9 million.
Syn-Tech is a Florida-based manufacturer of automated fuel management systems and munitions support equipment.