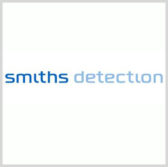 Smiths Detection has been awarded a five-year, $1.27 million contract to supply a radiation detection system to the Department of Homeland Security.
The company will deliver its RadSeeker handheld radioisotope detector and identifier to DHS' Domestic Nuclear Detection Office under the indefinite-delivery/indefinite-quantity contract, Smiths Detection said Wednesday.
"Under a competitively-awarded contract RadSeeker was developed in cooperation with the DHS to help keep our country safe from the threat of nuclear and radiological proliferation," said Stephen Esposito, interim president of SDI.
RadSeeker works to distinguish radiological and nuclear threats from naturally-occurring radiation in order to identify a source's material.