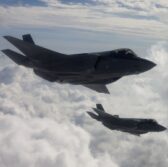 United Technologies Corp. unit Pratt & Whitney has awarded KMWE / DutchAero a 10-year contract to produce machined parts for the F-35 propulsion system.
KMWE/DutchAero will build and deliver the components as part of Pratt & Whitney's global F135 engine supply chain, Pratt & Whitney said Thursday.
The contract "reaffirms Pratt & Whitney's commitment to F135 engine industrial participation in the Netherlands," said Cliff Stone, vice president of business development and international programs at Pratt & Whitney's military engines unit.
Netherlands looks to procure as many as 37 F-35A conventional takeoff-and-landing aircraft to replace the Dutch military's fleet of F-16s.