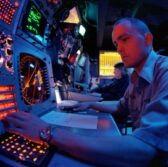 Exelis has been awarded a potential five-year, $28.5 million contract to repair weapons replaceable assemblies for the U.S. Navy's Integrated Defensive Electronic Countermeasures initiative.
The firm-fixed-price contract has an initial value of $7.6 million and contains a two-year base performance period that will run through December 2017, the Defense Department said Monday.
Exelis, a subsidiary of Harris Corp., will receive funds on individual delivery orders as the Navy issues them.
IDECM technology works to help military users detect and respond to air-to-air and surface-to-air radio frequency guided threats, the Naval Air Systems Command said on its website.
The countermeasure is designed to integrate with the F/A-18 E/F Super Hornet carrier-based multirole fighter aircraft, NAVAIR noted.